Building Solutions for a World on the Move
Whether inside the classroom, around campus, or learning and teaching from home, Our education line-up gives teachers the tools they need to deliver an enhanced experience while maintaining student engagement, collaboration, and confidence.
Providing a one-stop display solution to help businesses improve meeting efficiency and foster collaboration through enhancing modern conferencing, enabling remote working, and improving productivity and training outcomes
All commonly used tools are at users' fingertips, thanks to more intuitive UI design. Enjoy the super-smooth operation and flexibility of customizing your preferred applications.
Qtouch adopts the latest Android version with a 4K intuitive interface along with various RAM and ROM capacities that fit your needs and ensure maximum stability. A powerful system with abundant collaborative tools available at your fingertips, bringing user operations more seamless and effortless.
Industry-leading Interactive Technology
The difference is in the details
IUF / Zero+ Bonding / Windows Ink
- Enable a high-level image quality with the new zero+ bonding and Infrared Ultra Fine technology.
- The advanced touch technology empowers empower the screen with instant response, and maximum precision, revitalizing a more immersive visual experience.

- Keep focus and never lose an idea with Windows Ink's collaborative features that allow you to write on documents, save annotations, and share your work.
4K Wireless Screen Sharing for Meeting Collaboration
It's amazing how easy it is to share a screen. With BYOM, you can connect a screen camera wirelessly to your preferred UC platform and start a video conference.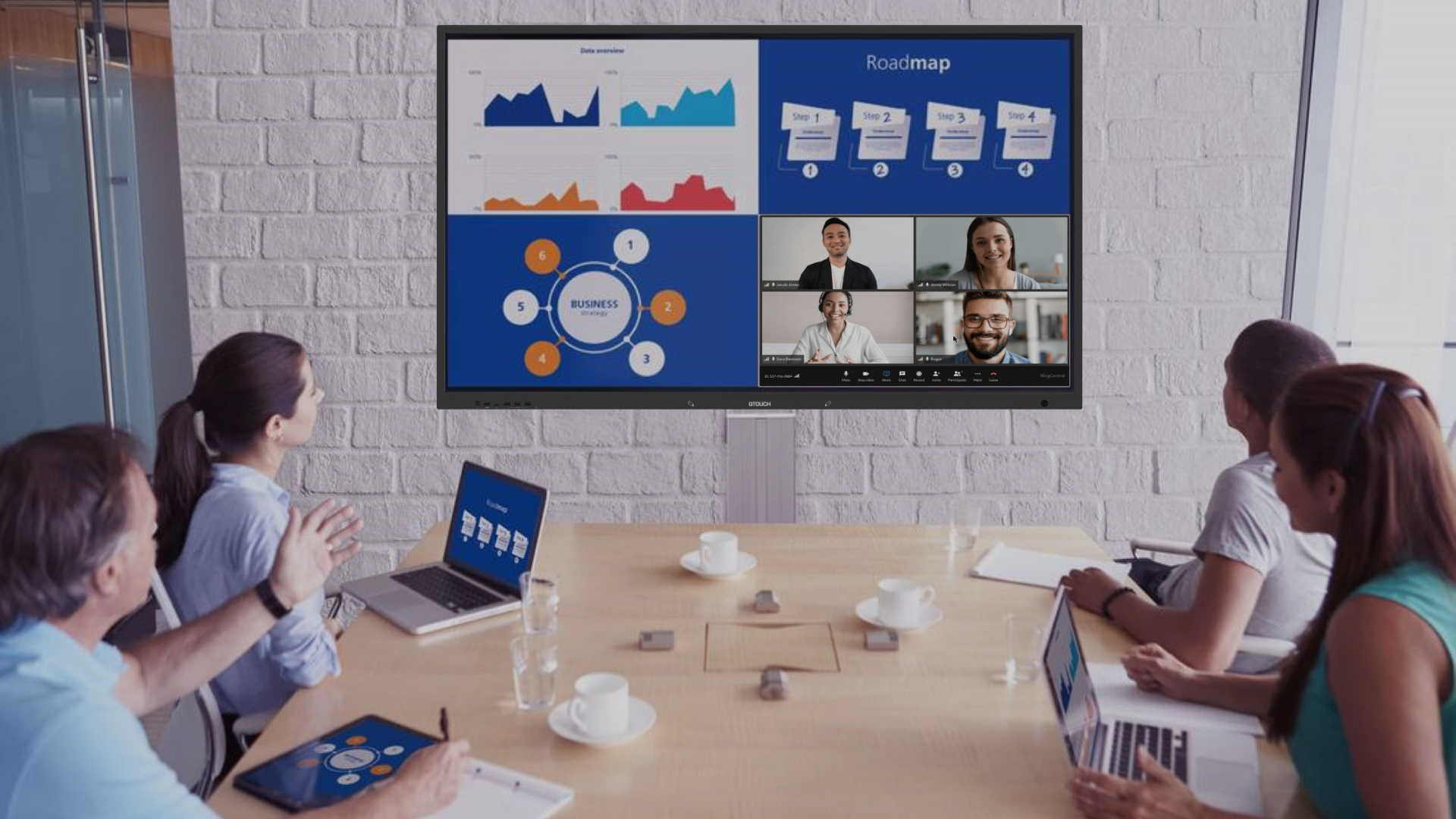 Flexibility and Multitasking
The inconvenience of switching applications is eliminated. With flexible windows, you can work on multiple tasks at once, increasing the efficiency of meetings as well as increasing productivity.
Collaborate with built-in software
There are endless possibilities and more intelligent functions available to improve presentation in every way when using our built-in software. These include handwriting recognition, shape recognition, and the ability to switch between split screen and smart table modes.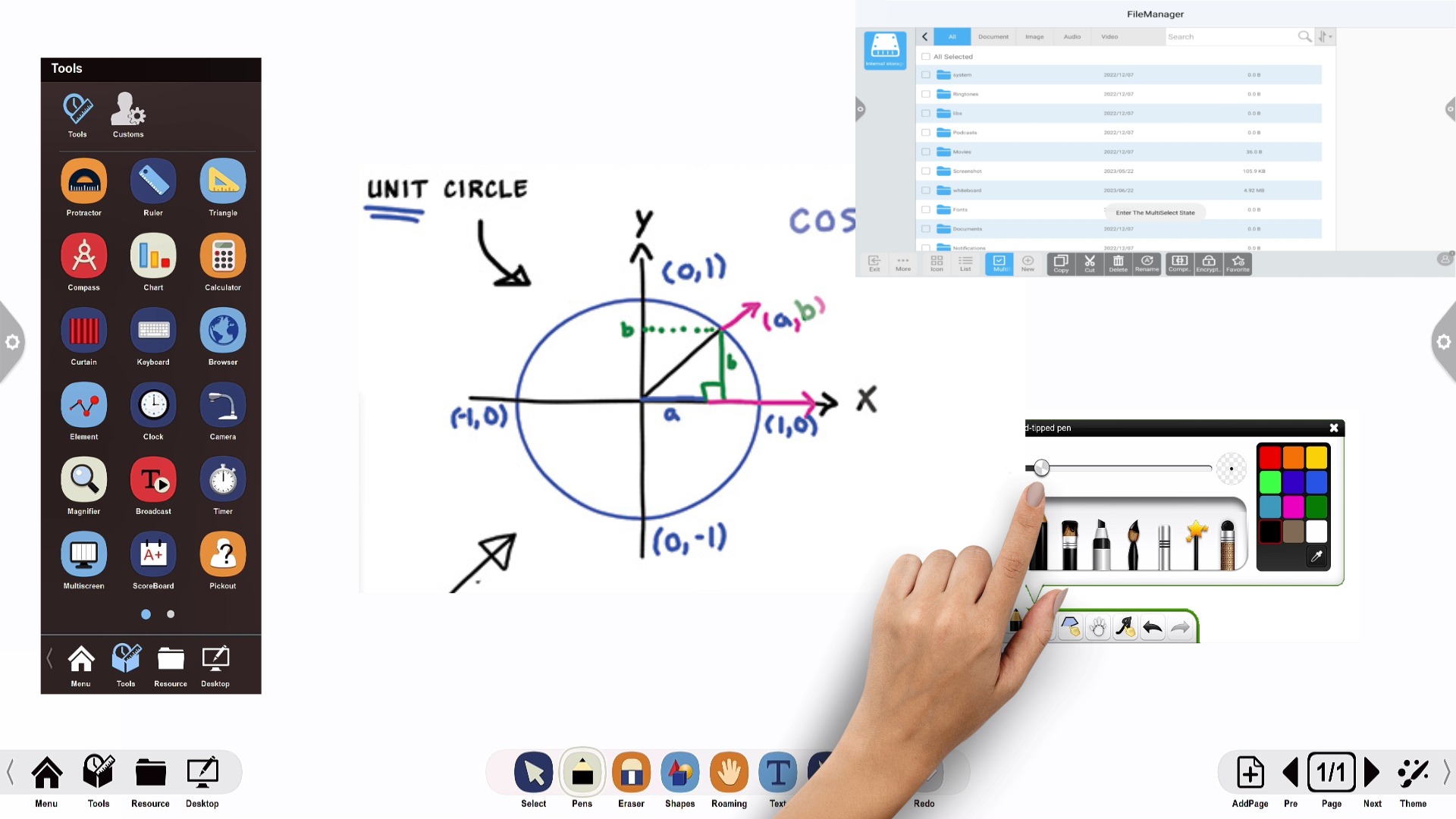 Remote Device Management System - MDM
- Real-time view and remote control of IFPD on a unified platform
- Apply and enforce policies and regulations
- Install applications and updates on all devices remotely
- Take remote control over devices for assistance
- Group and tag devices according to predefined criteria
- Analyze device, web, and app usage to make fact-based decisions
Experience unbeatable visual effects

that offer:
- Shock-absorbing, extra-durable glass

- Dust and moisture resistant
- A fluent and accurate touch experience
- A wide viewing angle
- Crystal clear high-quality image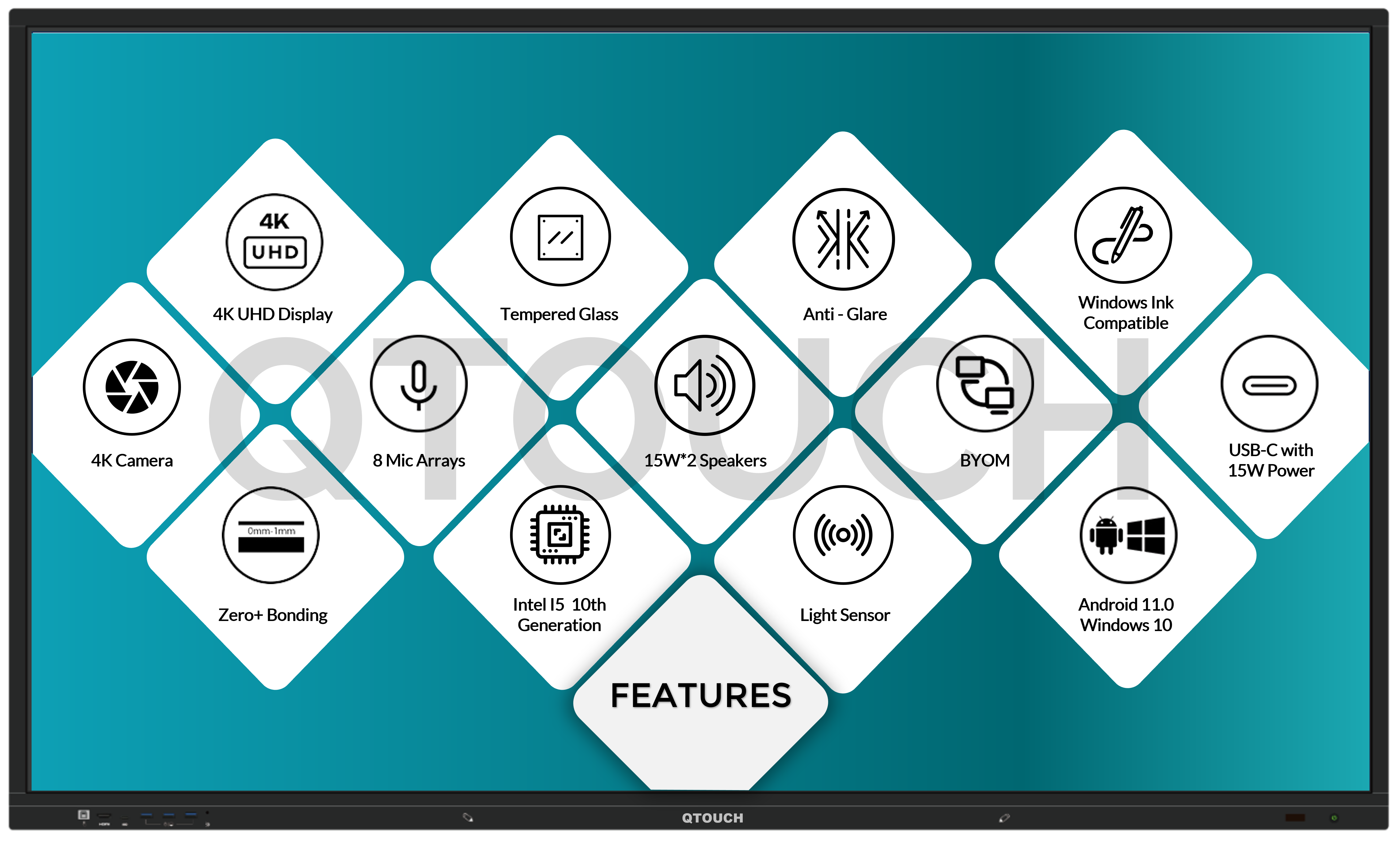 Check out the other features
Extending the screen with HDMI
This dual-screen solution allows audio and video to be delivered simultaneously from the interactive display to the extended screen in 4K at 60 frames per second. Ideally suited for classrooms or conference rooms with large spaces to maximize visibility.
Plug-and-play USB-C device capability
An interactive touch panel can be controlled two-way, shared over LAN, fast-charged at 65W, and transmitted at 4K@60fps with a single cable solution. Your presentation will start instantly on all mobile devices, including laptops, tablets, and smartphones.
A Powerful High-Speed Network
Through the dual-band WiFi module, the hotspot can be accessed and shared both wired and wirelessly without interference. Network speed is guaranteed by WiFi 6 and 1000M LAN sharing. There is no lag even when presenting a 4K video.
Visual Efficiency - 4K AI Camera
Embrace AI camera with voice tracking and auto-framing. It automatically switches focus between different speakers during a video conference with ultra-clear picture quality regardless of varying lighting conditions
Audio Efficiency - It's all about sound with noise-free
8 Arrays Microphone

20W(Speaker)*2, 15W(Subwoofer)*1
Acoustic Echo Cancellation (AEC) technology provides optimum voice pickup, echo cancelation, beamforming, and noise reduction.
Anti-Blue Light for Eye Protection
Maintain color accuracy on display and restore excellent image quality while reducing 80% of harmful blue light from the LED backlight for your eye comfort.
Do you have a question?

Feel free to contact